Finder Up-Button
By default Finder in Mac OS 10.0-10.4.* does not include a button to go up one level in the folder structure and it does not provide a simple way to add it. However there are few standard options that can do the job.
First of all there is a shortcut - ⌘↑ (or in the Menu Bar open GO > Enclosing Folder)
You can add "Path" drop-down button to the toolbar in the finder
You can switch to the column view and easily navigate to the upper levels
But if you just want a simple button that opens a parent/enclosing folder you can use upButton.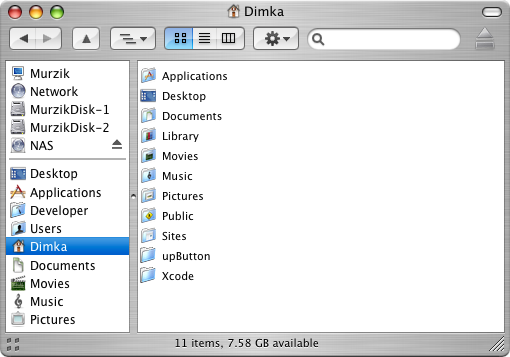 Download


finder-upbutton.dmg 21Kb - freeware
finder-upbutton-readme.rtf (included in dmg file)

mini update:
I have not upgraded my computer to Leopard yet, and as a result I did not update upButton too, but Noah, very kindly sent me his version that is designed for the 10.5. I have tested it on my friends computer and it worked fine.
Parent.app.zip - 12Kb
Thank you Noah.
Installation Instructions
Open Application > Utilities Folder and drag or copy the upButton file there (do not close Utilities Folder just yet)
Open Finder, Press ⌘J (to open View > Show View Options menu)
Drag the upButton from the Utilities Folder to the Toolbar area in the Finder, this will create a button that acts as a shortcut for the upButton application.
Currently it was tested only with Apple Mac OS X 10.4.8 and 10.4.9, but I am pretty sure that it would word fine with other versions too.